Three or four years ago, someone sent me a link to a RSAnimate video. I was fascinated by it. Having a skilled illustrator draw "live" on a whiteboard while someone discusses a concept is actually quite engaging for those of us who have a more visual learning mode.  The "doodling" helps people like me focus in on the point and keeps one's attention focused on the topic. If you have never seen an RSAnimate video, check out one of my favorites:  Sir Ken Robinson discussing Changing Education Paradigms.
I have a friend from high school who was quite the doodler — a skill I thought was wonderfully artistic, but really not practical in terms of securing a lucrative job. Boy, was I wrong! I talked with her recently and she landed a job last year working for the CEO of a company in San Francisco. He loves the RSAnimate videos and so he hired my friend to attend all the corporate meetings and create "live" RSA Animate-type outlines of his employees discussions. He reviews the whiteboard animation videos of meetings he is unable to attend and also sends them out to others who need to stay abreast about what is happening at the company. That is her job… everyday! Wow!
Back when I first saw these whiteboard animations from RSAnimate, I thought, "Wow, wouldn't it be great if educators could make these for class presentations —  especially in online courses?" However, not all of us are gifted illustrators, nor do we have the money of a corporate CEO to hire our own artist. I've always thought it would be too complicated to make such a software for the "common man or woman," but this week a Cal Poly faculty member introduced me to VideoScribe, a software tool by Sparkol that creates whiteboard animations.
The best news:  VideoScribe is very intuitive and easy to use. Sparkol has quite a few helpful free video tutorials but because this software is so intuitive, I was able to make a short opening animated frame in just a few minutes without opening a single manual or training video. Now that I have the gist of how it works, I'll be able to develop additional frames more quickly. Check out my first (draft) experiment below: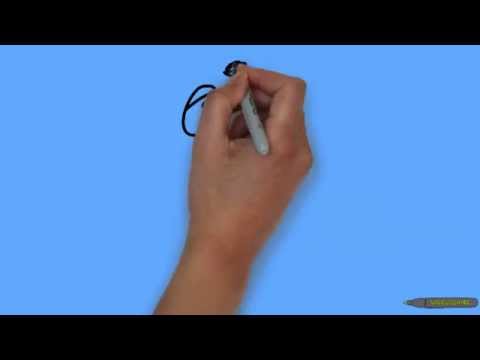 VideoScribe contains a lot of great options. You can:
Choose an image from the VideoScribe Library and it will be drawn "live" on the screen, as the example above of the ice cream and text demonstrated. (Note that VideoScribe Pro has a lot more images than what is provided in the trial version of the software.)
Import your own images (.jpg, .png or .svg) and give VideoScribe an idea of the outline by manipulating some sliders to delineate the outer lines of the image and VideoScribe will draw that image "live" for you.
Create your own scalable vector graphic (.svg) with software such as Adobe Illustrator or Inkscape and import it into VideoScribe. If you have digital graphic talents, this really opens up your options to employ any images you desire.
Type in text and have VideoScribe write it for you in a variety of fonts, sizes, and colors.
Import not only other English fonts from your system's font library, but other international language fonts as well.
Add your own voiceover or import one created with free audio programs such as Audacity or GarageBand.
Select copyright-free background music from VideoScribe's extensive music library, depicting all sorts of moods, tempos, and genres.
Change the background page from default white to practically any color you desire.
Zoom in and out, pan, and control the scene as any camera would, creating a Prezi effect, if you so desire.
Morph one image into another (for example, an image of a sad face could gradually morph into an image of a smiley face).
Save out the final video file directly to YouTube, Facebook, Dropbox, or your own computer desktop as a .mov file or as a VideoScribe file that can only be opened with VideoScribe.
Embed the final video into a Keynote, PowerPoint, or Prezi presentation.

Store your files online to your VideoScribe account with unlimited cloud storage or on your own local computer, allowing 

you to 

work on your file from any computer location where VideoScribe has been installed.
VideoScribe Pro is sold on a subscription basis (UGH! I hate subscriptions) and it isn't cheap ($30 per month, $200 a year, $580 for a lifetime), but the good news is that there is no minimum contract. So, it might be just the ticket if you wish to purchase a monthly subscription for a couple months while creating some online/flipped class presentations, and then just unsubscribe. If you're interested in this nifty tool, try out the 7-day trial. If it's not for you, at least you'll feel a bit more creative and have a little fun!
~ Luanne Fose (The Tweed Geek)
 P.S. Note: There is also an iPad version of VideoScribe that sells for $5.99 at the iTunes Store. I haven't had the time to try it out yet. If you give it a try, please send me your review of it in the comments section.